About
Showcasing achievement and success in the UK and European healthcare, biotech, pharmaceutical and life sciences sectors
The European Mediscience Awards is now in its 20th year, having been held every year since inception in 2002*. The event is the largest annual gathering of private and publicly quoted healthcare, biotech and life sciences companies in Europe. Bringing together the best of European mediscience companies to celebrate achievement and recognise success, it is the must-attend event for anybody working in this sector.
Each year sees the attendance of over 500 quoted and private UK and European life sciences companies and their corporate advisers, analysts, fund managers, commentators and peers. The event is sold out from one year to the next.
The European Mediscience Awards 2021 will take place on Thursday 18 November at The Brewery, London EC1, subject to government guidelines.
*with the exception of 2020 when we were unable to hold a live event due to COVID-19, but instead held a successful digital campaign.
Awards
covering the period 1 April 2020 to 31 March 2021
Nominations are open
Click on each award to view more information
BEST COMMUNICATION AWARD
Sponsored by:

BREAKTHROUGH OF THE YEAR AWARD
Sponsored by:

BEST TECHNOLOGY AWARD
Sponsored by:

THE EMERGING STAR AWARD
Sponsored by:

MEDISCIENCE COMMENTATOR OF THE YEAR AWARD
Sponsored by:

CAPITAL MARKET TRANSACTION OF THE YEAR AWARD
Sponsored by:

MOST SIGNIFICANT CONTRIBUTION TO THE MEDISCIENCE SECTOR AWARD
Sponsored by:

BEST NEWCOMER AWARD
CHIEF EXECUTIVE OF THE YEAR AWARD
Sponsored by:

COMPANY OF THE YEAR AWARD
Sponsored by:

Voting panel
The 2021 Voting Panel will meet on Thursday 6 and Monday 10 May.
Credentials of the panel members will be announced on this page in due course.
Click below to see judges from past events.
The 2019 Voting Panel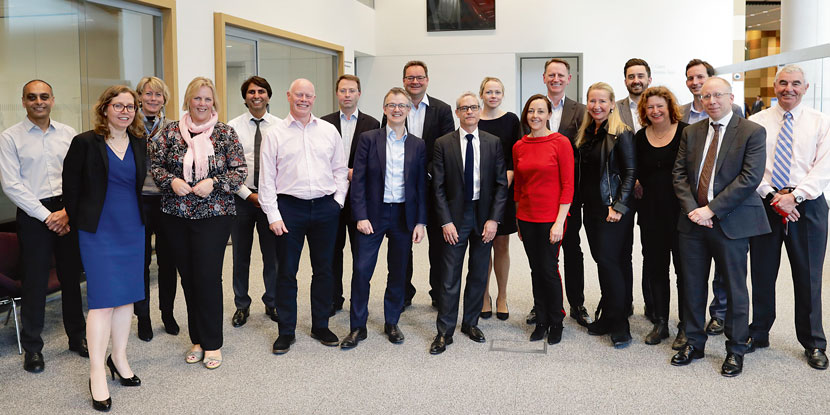 The event
---
Sponsorship
Sponsorship opportunities sometimes become available, including sponsorship of an individual award, sponsorship of the official drinks reception or sponsorship of the menu. Sponsorship opportunities are, by their very nature, limited. Costs and availability on request.
---
Hosting a table
Reservations are available for tables of ten people. Numbers are strictly limited and reservations are taken on a first come, first served basis.
---
Advertising
Advertising in the brochure is welcomed and enables your key messages to reach a highly targeted audience. The event brochure is available on the night and contains details of the names of all attendees, in alphabetical and table order. Thus it is widely used as a corporate finance reference guide for up to a year after the event.
---
Bespoke sponsorship opportunities
We offer a range of bespoke sponsorship packages, tailor made to suit your marketing objectives and budget. Further information on request.
---
COVID-19
We were unable to hold the European Mediscience Awards in 2020 due to the global pandemic, COVID-19. Instead, we conducted a digital campaign hosted on our social media channels. We saw great levels of engagement and reach, and the campaign was deemed a huge success.
All being well, and subject to government guidelines, we hope to be able to meet in person this year at the European Mediscience Awards on Thursday 18 November 2021.
Jo Thomas
Managing Director
Ford Sinclair
---


Key details

On the night
---
Date
Thursday 18 November 2021 (subject to government guidelines)
---
Venue
The Brewery, 52 Chiswell Street, London EC1Y 4SD
---
Start time
6.15 p.m. – Drinks reception
7.30 p.m. – Dinner
9.15 p.m. – Awards
9.45 p.m. – After-dinner entertainment
12.30 a.m. – Carriages
---
Dress code
Black Tie
---
Charity Collection
A charity collection will be taken up during the course of the evening and Gift Aid forms for UK taxpayers will be provided to all guests.
A secure link will also be provided for those who prefer to donate online.
Please note that we are currently unable to accept any donations by credit card on the night.
Getting there
---
By public transport
Tube stations:
Barbican or Moorgate (five-minute walk to venue)
Circle, Hammersmith & City and Metropolitan lines
Northern line (Moorgate only)
DLR station:
Bank (adjacent to tube – follow the direction signs; 15-minute walk to the venue)
Rail stations:
Liverpool Street (nine-minute walk)
Moorgate (six-minute walk)
---
By road
The Brewery, 52 Chiswell Street, London EC1Y 4SD
Sat nav: EC1Y 4SA
The venue is in a Congestion Charge zone.
There are no car parking facilities on site at The Brewery.
Limited pay and display street parking is available.
24-hour public parking is available at:
Barbican Centre, EC2Y 8DS (nearest public NCP car park)
Finsbury Square, EC2A 1AD
London Aldersgate, EC1A 4HY
London Wall, EC2V 5DY
Accommodation
---
The Brewery, London EC1: exclusive rates for bedrooms may be available for guests attending the event. Further details will be available in due course.
For information on hotels nearby, please visit www.thebrewery.co.uk/where-to-stay/hotels-nearby/

---

Location
Key dates
Thursday 6 and Monday 10 May 2021

Thursday 18 November 2021, subject to government guidelines

Winners' announcement at the European Mediscience Awards 2021 gala ceremony
Charity
Worldwide, around one in 10 people have chronic kidney disease, for which there is no cure. Here in the UK, 20 people develop kidney failure each day, and 64,000 are reliant on dialysis or a transplant to stay alive. Over the past decade some progress has been made in treating kidney disease, but not nearly enough, with successive generations experiencing the same life-limiting health problems and inadequate treatments.
As the largest kidney research charity in the UK, nothing is going to stop us in our urgent mission to end kidney disease. We're here to be heard, to make a difference, to change the future.
Gallery
Recent images from European Mediscience Awards